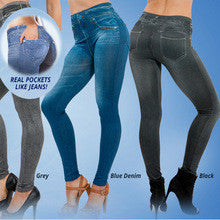 2015 hot selling women's printed slim high elastic jeggings fake jeans girls leggings with 2 pockets causal fasion leggins
Estimated Delivery Time: 10-15 days (ships out within 7 business days)
Relax and slip into Slim Jeggings- the most comfortable jeggings ever!
 1. smoothes your bottom
2. no visible pantylines
3. smoothes muffin top, hips
4. get great fashion and style at a fraction of the cost of designer skinny jeans
5. 3D heat infusion printing
 Stretches to your shape, Feels amazing!
2015 popular womens\' jean printed jeggings legging( black, blue and grey are all available) All free shipping (for most of the country)
Flat Size inf
ormation: (unit: cm    error:1-3cm)
S/M:length:92cm, waistline:30cm,hipline:36cm
L/XL:length:95cm, waistline:33cm,hipline:37cm
XXL:length:98cm, waistline:35cm,hipline:38cm
95%POLYESTER, 5% SPANDEX
---
---
More from this collection
Liquid error (layout/theme line 321): Could not find asset snippets/spurit_uev-theme-snippet.liquid